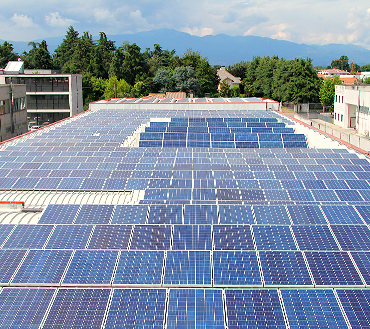 We want to leave our tracks everywhere except for in the environment! We love our world and we will do everything we can to protect it. We use solar energy from our two photovoltaic systems, we dispose and purify all the processing residue and we are constantly searching for solutions which have a lower environmental impact.
We constantly strive to improve the quality of our work and the life of those who work with us. Machines protected by sound-proof cabs, we wear PPE, we constantly take part in courses for safety, and we never use under-age workers or workers without a proper employment contract.
All personal information is managed in full observance of privacy laws. Our servers are protected by multiple back-ups against loss of information. Our customers' important data and drawings are filed on computers with no external access.
We think of our vendors as partners who are fundamental for growth, ensuring prompt payments, certifying them, monitoring them and establishing a path of continuous growth together.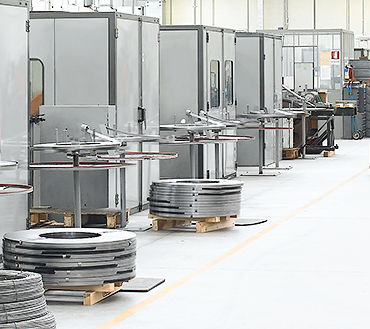 We constantly strive to improve the quality of our work and the that of our collaborators, as well as the surrounding environment. It is for this reason that we adopt and have exceeded the most stringent Italian and European standards on matters of safety, with the main objective of ensuring safe and comfortable working areas for those who work for us, so they can work to the best of their ability when creating a product of extremely high quality.
Our automatic machines are housed in sound-proof cabs to protect us from noise and fast moving parts. We wear the most appropriate PPE and regularly carry out training and refresher courses.
The fact that those who work for us have never been injured while working is a source of great pride for us.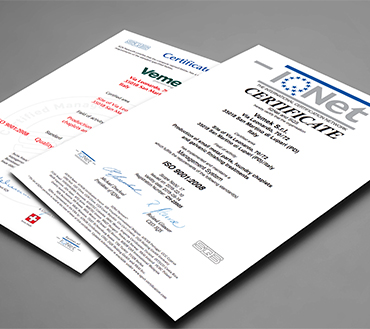 The SQS quality certifications on management systems, awarded since 2004, are a source of pride and point Vemek in the direction of other ambitious future goals.
Market leader, with many years of experience, SQS is the Swiss organisation leader in the field of certification and evaluation services. It was established in 1983 and was one of the first companies in this field on a global scale. Today it works across the globe, with more than 150 employees and consultants in numerous countries.
Along with SQS, our customer is our first certifying body! It is with great pride that we have managed to get to the point with almost zero claims, we manage any nonconformities with simple, rapid solutions, we respond immediately to the needs of our customers, with electronic instruments which allow us to overcome any barriers created by time differences, distance and/or culture. We work with the most important recognitions from the most prestigious car manufacturers in the world.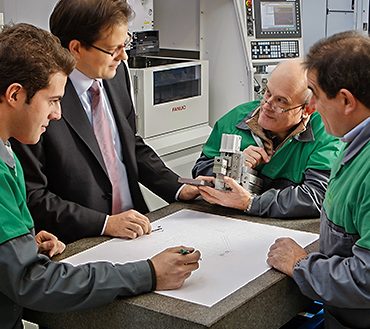 Fifty years of work has allowed us to develop a know-how able to offer advanced solutions, studied ad hoc to meet the needs of every customer. We work in close contact with foundry technicians all over the world. We start with their daily casting problems, to identify a rapid solution together. We can count on a worldwide network of experienced dealers who in turn put their experience at your service.
The ability to design and create machinery and systems completely within our structure is one of the strengths of the company and makes Vemek the ideal partner when developing a project. Designing and constructing the production equipment, knowing the requirements which the end product must meet has the incomparable advantage of minimized errors.
Reducing errors, more accurate calibration in terms of the requirements you specify, observing the relevant tolerances, flexibility in modifications, speed of production and reduction in costs: these are the main advantages of these solutions.